We have an entire team dedicated to providing outstanding service. Whatever you need – from directions to Room Service or Personal Assistance- call us and help is on the way.
Room Service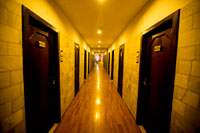 This is a 24-hour service, where you can avail of our services in the comfort and convenience of your room.
The Room Service includes In-Room Dining. Our Room Service Desk is always at your service, to make your stay most comfortable and enjoyable.
Entertainment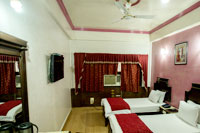 For your entertainment, your room is equipped with Cable TV channels. A list of the channels is available in the room.
You can also place a personal wake-up call on your television and also utilize the Internet access not on the television. The necessary instructions can be had from the remote control.
Telephone & Computers
The Deep Avadh is equipped with state-of-the-art telecommunication facilities and loads of other facilities at the touch of a button. The telephone services you can avail are- Local Calls, STD Calls, International Direct Dialing, Room-to-Room Dialing, Wake Up calls, Do Not Disturb message on your phone.
You can access high-speed Internet from your room by using your laptop.
Emergency & Security
At The Deep Avadh, your safety is our first concern. Our security staff is available to help you 24 hours a day.
The Hotel is equipped with a state-of-the-art fire emergency system. The emergency exit and procedures are displayed in the room.
Safe deposit boxes are available at the Front Desk. This service is free of charge.
Deep Privilege
You can make your hotel experience the most rewarding by patronizing Hotel Deep Avadh and its multi-faceted services time and again. Our frequent visitors' programme offers you an opportunity to join the Deep Privilege Club. This privilege comes with big discounts towards your meals, beverages, bar supplies, housekeeping services, room service and much more.
The Deep Privilege is offered in three categories – Deep Platinum, Deep Gold and Deep Silver.
All our members of Deep Privilege get varying discount on our regular services, besides 50% discount on all the mega events organized in our hotel.
State of the art 24-hour Business Centre
The Business Centre offers one-stop solution for all your business-related needs. The facilities range from computers and conference arrangements. The business centre is equipped with high-speed Internet connectivity.
Fax facility is available through the Sales Desk. You can also have a fax machine installed in your room.
Photocopy facility is also available.
The Courier service handles documents to be sent to domestic as well as international destinations.
The business centre can also handle packing and mailing of any items you have for overseas or local shipping.
24 hours In-Room Dining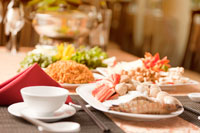 The In-Room Dining is an experience to add a personal touch to the taste of fine cuisine.
There is a range of delectable selections from our full-service restaurants.
Our in-Room Dining Staff will gladly assist you for Breakfast, Lunch and Dinner. If you would like an item not listed on the menu, please ask – we shall make every effort to accommodate your request.
Your complete satisfaction is our goal. For your In-Room Dining experience, the order is guaranteed to be served within 45 minutes. Or it's on us!
Meetings and Conference facilities
There are four meeting Banquets for 20 to 500 people, a Board Room for 10 people, Internet-enabled workstations, fax, photocopying and typing facilities.